A Promise of Excellence
John E. Neville Excavating, Inc. feels a good, honest working relationship with our customers is important. Without their complete satisfaction, we do not consider ourselves to have been successful at our job.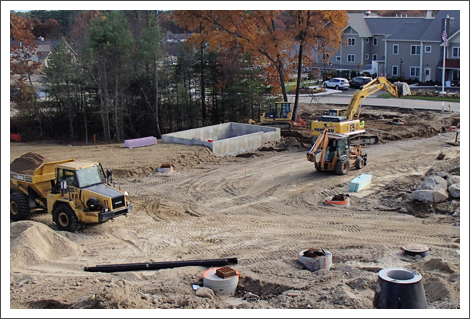 We'll do small projects from pulling stumps grading a backyard or installing a septic system, to complete sitework for a new home or commercial facility as well as a new roads and parking lot construction.
Current Projects:
Primrose Day Care School, Corporate Drive, Bedford
Bedford Hills Apartment Buildings, Corporate Drive, Bedford
New Road for Housing Development, off Susan & McCurdy Roads, New Boston
Recently Completed Projects:
New Road, Fieldstone Drive, off Wilson Hill Road, New Boston - 2013
Moose Club Park Apartments, off Moose Club Park Drive, Goffstown - 2013
Optics 1 Office Building, Corporate Drive, Bedford - 2012
Saint Anslem College - Sidewalk and site improvements - 2013
New Parking lot, detention ponds - 2012
Elva Drive, off Tirrell Hill Road, Goffstown - 2011
Blackbriar Woods off Montalona Road, Goffstown - 2010
Medical Office Building, Tatro Drive, Goffstown - 2010
Town of Goffstown Road Reclamation Projects:
Spring & Lesnyk Roads - 2011
Merrill Road - 2008
Black Brook Road - 2006
Tirrell Hill Road - 2005
Paige Hill Road - 2009
Mountain Road - 2008
First, Second & Third Ave. - 2005
High Street - 2005


Past Completed Projects:
New Kearsarge Regional Middle School in Sutton - 2007
New Weare Middle School - 2006/07
New Goffstown Kindergarten - 2006
Shell Gas Stationand Tatro Drive, Rt. 114, Goffstown - 2004
Irving Gas Station, Concord - 2002/03
Make an Informed Decision
Contact us now to learn more about our services.